The Outdoor sports Euro'meet is the strategic outdoor sports event and brings together key stakeholders committed to outdoor sports sustainable development. The Euro'meet provides a conference format that encourages interaction, networking and high-quality knowledge sharing. This event brings together outdoor sports experts, decision makers, outdoor sports organisations representatives, practitioners researchers from the outdoor sports sector,national agencies, academic institutions, local authorities, not for profit organisations and businesses from all over Europe for experiencial learning and sharing. Previous editions were held in France, Slovakia, Northern Ireland, Catalonia and Portugal.
 The host city for the Outdoor Sports Euro'Meet conference 2022 was Silkeborg – The Outdoor Capital of Denmark. Silkeborg is a visionary municipality with a focus on welfare, nature and physical activity outdoors. We seek to harvest the variety of benefits of being outdoor for all the citizens in the municipality –socially, mentally and physically. The focus of the city on nature and outdoor activities is not accidental. Silkeborg is known for its breathtaking landscapes, enchanting woodlands and no less than 51 large lakes and beautiful nature interwoven within the city.The Outdoor Sports Euro'meet 2022 were held September 12-16, 2022.
Find out information about the outdoor sports euromeet 2022 in Silkeborg DK
The Euro'Meet 2022 in Silkeborg focused on the importance of greener outdoor sports and how they can contribute to a healthier and happier society. It's now more important than ever to become proactively involved in the transition to a greener outdoor sports sector as well as showcasing the value and the power of outdoor sports to society.
As a network, ENOS encourages and supports the sector to commit to new and innovative ways of working within their own local, regional or national setting to develop and manage greener outdoor sports as well as more sustainable and healthier ways of living. The aim of promoting outdoor sports in Europe and committing to doing this in more sustainable ways will provide both challenges and opportunities for organizations, welfare institutions, private companies and civil society.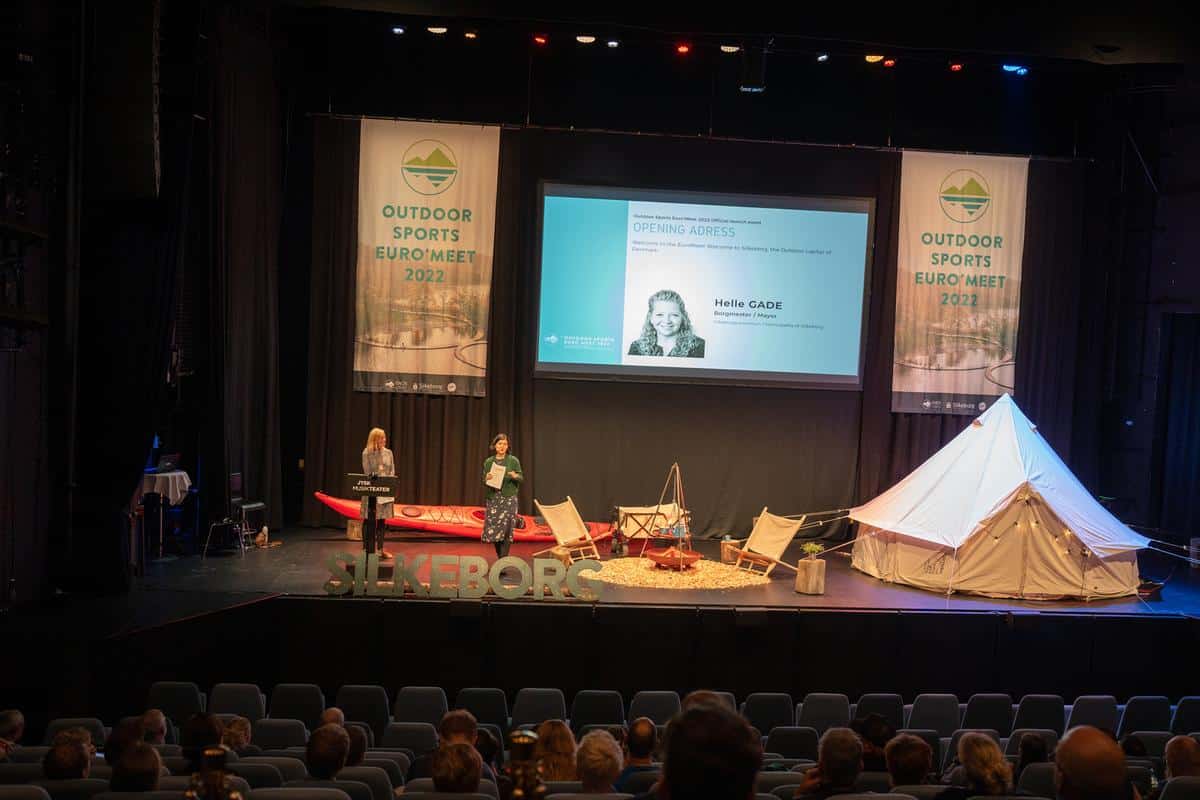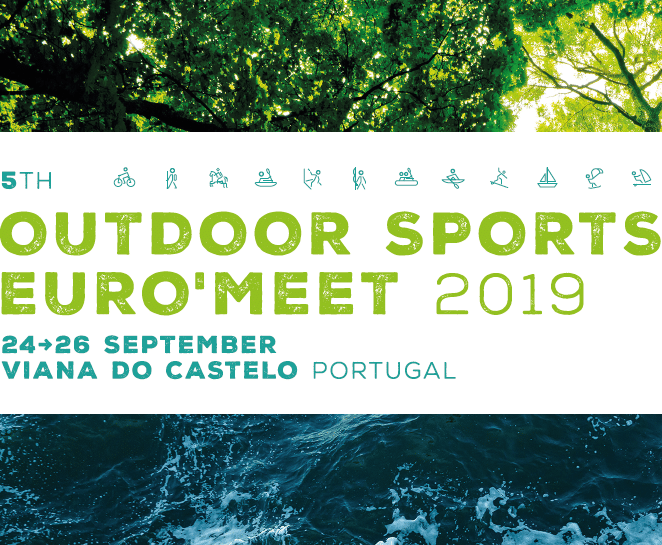 THE 5TH OUTDOOR SPORTS EURO'MEET
The 5th Outdoor Sports Euro'meet was held in Viana do Costelo, Portugal, from 23rd to 26th september 2019 with 492 delegates from 18 different countries at the event. Three themes were explored throughout the event:
1. #BeActive, be healthy, be outdoors
2. Urban Outdoors
3. Blue Growth
As a result of the Euro'Meet, the delegates worked collaboratively to develop a series of 26 keys recommendations that are detailed in Section X of this report. 14 of the recommendations are for the European Network of Outdoor Sports (ENOS) and will help form the work programme for the ENOS Management Committee who meet 3 times per year.
The management committee members are all volunteers and ENOS has only 1 part time officer (provided by the CREPS Rhone Alpes in France) which means that the capacity to deliver on these is somewhat limited. However, members are fully committed and enthusiastic practitioners in outdoor sports and so will endeavour to prioritise and work through the actions. 12 actions were identified as key recommendations that should be sent to the EU Sport Unit which sits under the Directorate General for Education Youth Sport and Culture (EAC).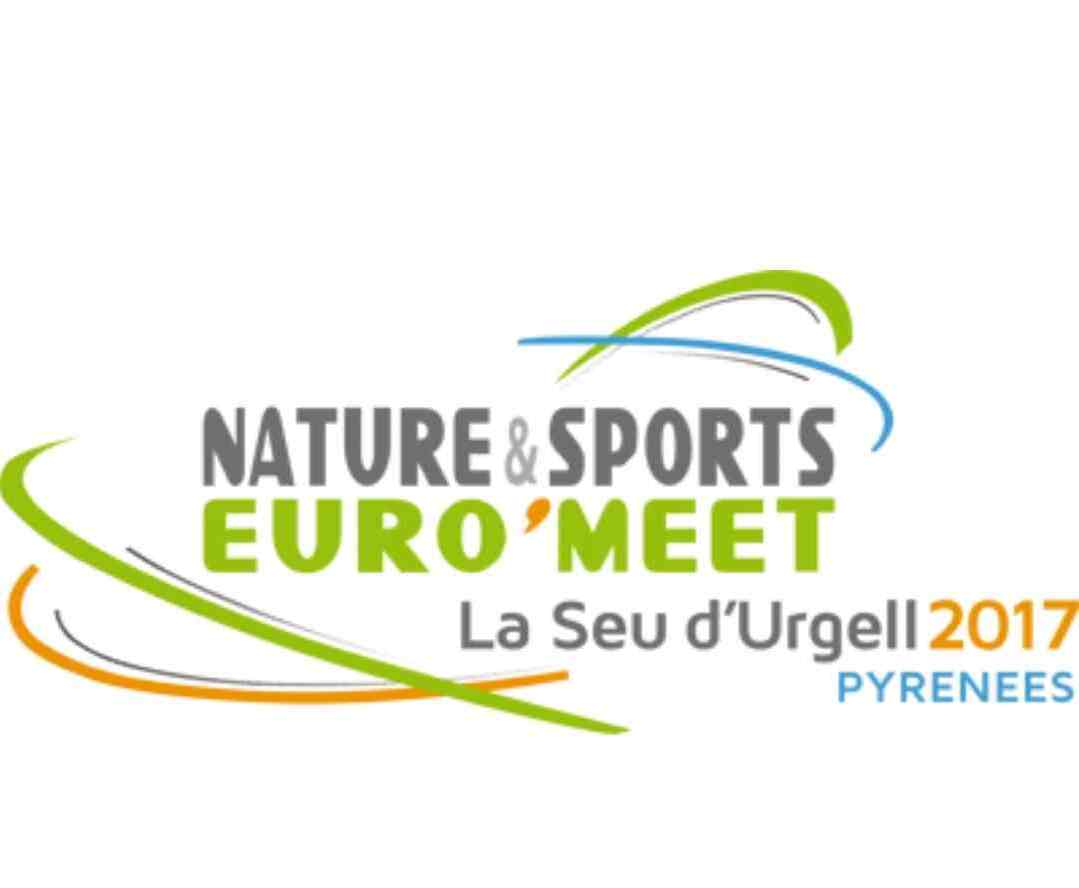 THE 4TH OUTDOOR SPORTS EURO'MEET
On 27-29th September, over many key stakeholders from 11 different European countries gathered at La Se D'Urgell in Catalonia to share knowledge and develop critical thinking in the whole area of outdoor sports development at a European Level. This event was organised by La Seu Turisme but run in partnership with and under the auspices of the European Network of Outdoor Sports (ENOS).
At the conference 4 key themes were discussed with keynote speakers and recognised experts in their field all involved:
1. Mass mega sporting events
2. Active tourism
3. Outdoor sports in protected areas
4. Outdoor sports, health and well being
7 actions were identified as key recommendations that should be sent to the EU Sport Unit which sits under the DG for Education Youth Sport and Culture (EAC). While these are sent to the EAC some relate to other units such as the DG for Agriculture and Rural Development. Finally, there are 11 recommendations that can be adopted by national, regional and local authorities, protected area managers or event organisers to improve how outdoor sports are managed and developed in their region.
Ressources and presentations
Program
Summary Recommendations
Plenary Sessions
Theme 1 & 2 : Mass mega Sports Events & Active tourism
Theme 3:  Outdoor Sports in protected area
Theme 4:  Well being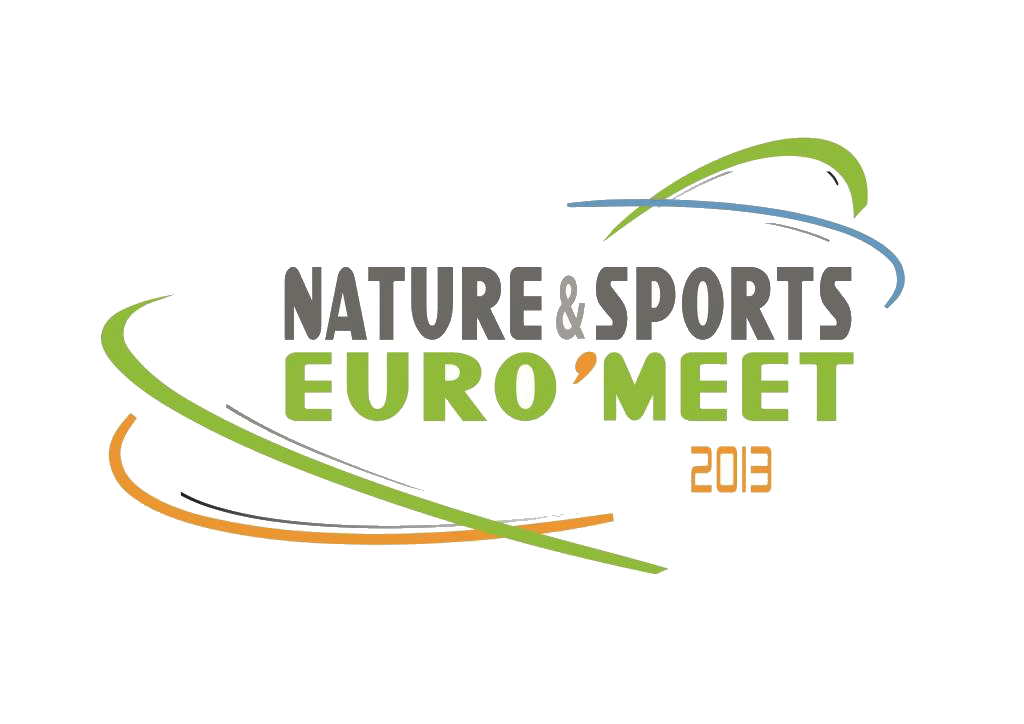 THE 2ND OUTDOOR SPORTS EURO'MEET
A structuring event for the European tourism and outdoor sports network, which brings together more than 1000 stakeholders in the areas of sports, tourism, the environment, and territorial development during 4 days:
A "transversal event" that promotes decompartmentalisation between stakeholders and countries.
An operational event that draws on experiences and projects in the field.
Proceeded by a network day that allows European structures to meet.
The particularity of the Nature & Sports Euro'Meet is that it relies upon the co-organization between the European steering committee, who guarantees the regularity of the spirit of the Euro'meet, and the territorial organizer, who applies territorial development of outdoor sports into the project.
Ressources and presentations
Program
Event conclusions
Theme 1: Outdoor sports in protected natural   areas
Theme 2: Learning and outdoor education
Theme 3: Be Happy, be healthy – be outdoors
Theme 4: Sustainable territorial development through outdoor sports
THE 1ST OUTDOOR SPORTS EURO'MEET
Down District Council and its associated tourism destinations is blessed with tremendous natural resources from the Mourne Mountains and Strangford Lough and Lecale Areas of Outstanding Natural Beauty. These areas are actively promoting participation in outdoor sports for local communities to increase health enhancing physical activity and also as a place for activity based and eco-tourism to drive economic regeneration. 2015 Euro'Meet key themes:
The social benefits of outdoor sports and methods to increase participation for all and also among under-represented groups along with results if available.
Innovative approaches to smart

development of territories through outdoor sports.
An overarching theme to both of these elements will be the issue of working in border regions. The main aim is to bring together between the 5th and the 8th of October, all the major players in the sport, tourism, environment and urban planning sectors in Annecy (France) and to encourage, to promote the same spirit of cooperation that already exists in France at a European level with the help of all those involved in promoting outdoor sports activities. Rich and interesting conferences like: the role of leisure outdoor sports in the territorial development; the environment in the outdoor event; sustainable development and the leisure outdoor sports; vocation, tendencies and new outdoor practices such as the kite surf or the slackline. Moreover, there are some visits of outdoor activities sites in the surroundings of Annecy.
Numerous personalities were expected:
Mrs Nathalie Kosciusko-Morizet – French environment Ministry,

Mrs Chantal Jouanno – French Sports Ministry,

Mr. Gregory Paulger – Youth and Sports Director of European Commission,

Mr. Colin Miège – sub-prefect and Co-Director of the Scientific Committee of Sport and Citizenship which will host round table on the concept of outdoor sports in Europe,

Madam MEP Sophie Auconie as a great witness concluding plenary and experts from 15 European countries.
European experts for our four theme seminars:
Mike Mc Clure, Countryside Recreation Officer, Sport Northern Ireland – Tollymore National center of outdoor sports and Member of the European steering committee of Nature & Sports Euro'Meet.

Gérard Peltre, President, International association Rurality Environment Development, Vice President of the 'Parc Naturel Régional de Lorraine-France' and member of the European steering committee of the Nature & Sports Euro'Meet

Jean-Louis Gouju, Director of Analysis Centre of training, jobs, careers in the entertainment and sports – CAFEMAS

Eugénio Di Maria, Founder and CEO, European Decision Maker Publications.
Program and Events conclusions
 Program
Event conclusion