Throughout the last decade, there has been an increase and strengthening of scientific evidence on the health and well-being benefits of contact and interactions between people with nature.
The sustainable deepening of these interactions, based on a more complete characterization of intangible links with nature, is crucial to build decisions that promote the health and well-being of people and ecosystems essential to our lives.
The threat of climate change, the need to protect biodiversity and currently, the COVID-19 crisis, have generated a set of policy documents, suggestions for technical solutions, and lifestyle recommendations that, unfortunately, do not always have the effectiveness we all desire. Perhaps this is because many of them are uncomfortable, unpleasant or too expensive for the majority of the population.
However, the health and well-being benefits of our contact with nature can be an effective low cost and low risk argument that can enable greater involvement of populations in the various processes and strategies of adaptation required to combat the various circumstances that give rise to the environmental threats facing the world.
In order to achieve this population level involvement and the optimisation of the wide spectrum of health provisions provided by biodiversity it is crucial that a framework is developed. The resultant model would undertake a spatial evaluation of the biodiversity´s health services at different scales. An interdisciplinary approach between sport sciences, geosciences, environmental sciences, humanities, social sciences as well as life and health sciences is needed to bring all aspects together. This must include relevant information and a standardized survey and grading methodology that can be used to assess the ability to provide and promote healthy lifestyles.
Considering that the diversity of stimuli from an ecosystem depends on the structural and functional complexity of the abiotic and biotic components of that system, a prospective health potential indicator must be developed and supported through components based on the findings from surveys and literature to connect the diversity of ecosystem settings with human senses. These settings can be divided into five components: geodiversity; biodiversity; weather and climate diversity; waterscape diversity; and biomechanical exposure diversity.
Outdoor sports refer to "all forms of physical activity that contribute to physical fitness, mental and physical wellbeing, and social interaction, in places where people can access natural green and/or blue areas, both in urban or rural environments." Hence, from an ecosystem service perspective, outdoor sports have an important mediating role between provision and demand of the "biodiversity health services".
Outdoors sports professionals should have the ability to manage different levels of engagement with nature found among clients and populations. They need to avoid negative impacts on biodiversity and at the same time, using the outdoor sport as an important tool promote and support policies, technical solutions, and lifestyle recommendations to enhance both biodiversity and health.
When this happens, we achieve an efficient and advantageous strategy for sustainable development, based on the natural partnership between "Biodiversity Health Services" and "Outdoor Sports" to really bring nature back into our lives. That win-win strategy fits deeply into the "EU Biodiversity Strategy for 2030", helping to protect and restore biodiversity and the proper functioning of ecosystems, through a new governance framework based also on an integrated and global approach to society.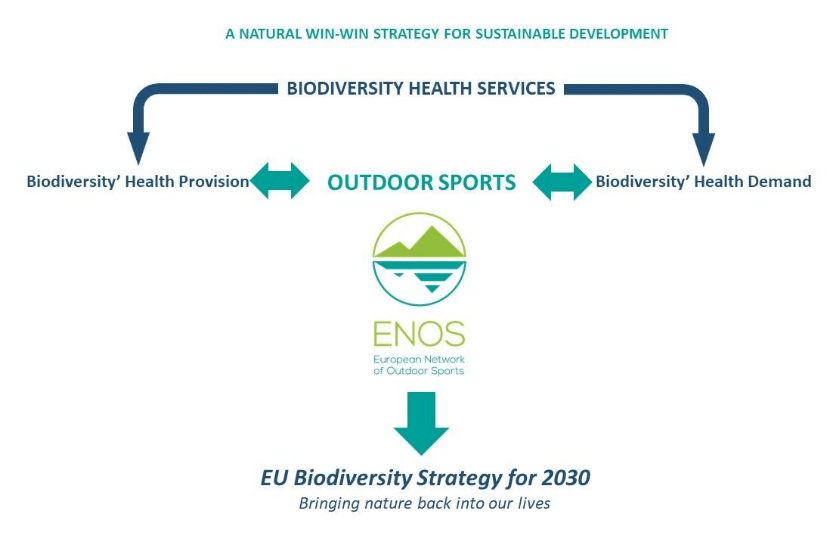 ---
Author:
Ronaldo E C D Gabriel, PhD – Associate Professor with Habilitation
Department of Sport Science, Exercise and Health, Universidade de Trás-os-Montes e Alto Douro (UTAD), Vila Real, Portugal