Supported by the outdoor brand Rossignol and the Hiking Commission of the French Handisport Federation (FFH) – a member of the ENOS network -, the RESPECT label allows, since the end of 2021, trail, hiking, mountain biking and Nordic walking resorts to welcome, in the best possible way, handicapped sportsmen and women who are keen on nature activities. This is an innovative and exemplary project that should be disseminated to as many people as possible. 
The creation of a new label: the principle
Seeking to increase the accessibility of outdoor resorts to disabled sportsmen and women, the Rossignol brand and the FFH have worked together to set up an effective system that would allow the dissemination of precise data on trails, hiking, Nordic walking or mountain biking, in addition to the information traditionally provided, such as difficulty, altitude difference or length… 
By means of geolocation, the partners have analysed each route in order to identify the width of the passages, the type of surface, the frequency and the nature of the obstacles that may be encountered during the practice: accumulated, this data should allow disabled sportsmen and women to benefit from a more precise vision of the route they will take and, thus, to anticipate their needs when faced with potential difficulties.
Three stations inaugurated and numerous tools put online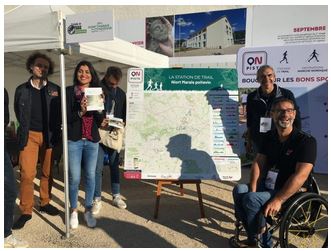 While three stations have already carried out this important work – in the Marais Poitevin of Niort, in Pays de Monts and in Saumur -, thus obtaining the RESPECT label, many others are planning to follow suit. Gradually, a large number of French outdoor routes should be listed and detailed in an accessibility guide, but also on the website and the OnPiste application.
A resonance with other ENOS projects
Time-consuming but necessary, this planning is a real tool to guarantee the autonomy of outdoor activities for people with disabilities.
It also allows the practice to be extended to a wider public: a necessity insofar as the benefits of nature sports on the health and well-being of practitioners have been proven on several occasions by the members of the ENOS network – notably via the BOSS project, conducted from 2017 to 2020.